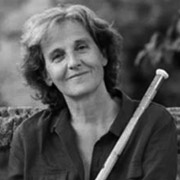 Il y a plus de vingt-cinq ans, Isabelle Courroy entamait, dans les Balkans, un périple à la recherche des modes de jeu des flûtes kaval, ces flûtes de tradition pastorale jouées dans toute l'Europe orientale et l'Anatolie, et dont le nom turc a pour origine « q-w-l » , »parole » en arabe. D'une cette double appartenance animale et sacrée, les flûtes kaval tirent leurs forces complexes tant du terreau fonctionnel et organique que du domaine symbolique et spirituel.
Abreuvée aux sources turco-balkaniques de son instrument, Isabelle Courroy a rassemblé un vaste répertoire auquel elle intègre ses compositions et arrangements personnels autour de l'instrument dont elle s'est faite pionnière en Europe occidentale.
Explorant à la fois la vigueur et délicatesse des différents styles qui caractérisent le jeu des flûtes obliques et la puissance d'un son organique sculpté dans la matière brute du souffle, elle puise dans une palette sonore aux multiples matières et couleurs, et cherche, y compris par le biais d'expérimentations dans le domaine de la lutherie, à explorer le champ de tous les possibles de l'instrument.
Dégagée de toute nostalgie, tant d'un ailleurs fantasmé que d'un passé idéalisé, Isabelle Courroy s'inscrit dans le flux d'un processus de création.  Les nombreux projets qu'elle initie ou auxquels elle est invitée témoignent à la fois de la plasticité de son jeu, de la diversité de sa culture et de la spécificité de son langage. Sa discographie est saluée par Les Victoires de la musique, Diapason d'or, ffff de Télérama, Choc du Monde de la musique, Grand prix des discophiles, Bravos de Trad Mag  et Coup de cœur de l'Académie Charles Cros.
Isabelle Courroy studied the traverse flute under the tutelage of G. Crunelle, honorary professor at the CNSM of Paris. She obtained her Médaille d'Or at the CNR of Marseille in the class of Jean-Louis Beaumadier. At the Musicatreize Orchestre (R. Hayebédian), she had the chance of following the artistic direction of Maurice Ohana, in the occasion of the recording of the "Llanto por Ignacio Sanchez Mejias" (Victoires de la musique et Choc du Monde de la Musique). This meeting will strongly impact her career. When she was thirty, she was strongly shocked when she listened to a Romanian kaval on a vinyl, this led to a process of initiation that would led her to the discovery of a whole family of instruments with Turkish names: kaval. The kaval flutes are completely unknown in Western Europe, she undertakes numerous travels that would lead her regularly to Rumania, Bulgaria, Greek, Macedonia and Turkey, in order to meet musicians in their own context and learn directly from them.
If tradition is one of the solid bases on which she anchors her work, her goal is to seek the fluidity that joins every aspect of her musical career to a same creative gesture that is open to the present world. To this end, Isabelle Courroy initiates and federates various projects of creation to which she infuses the particularity of her play by also loving to question archaism and modernity. In 2014, she signs Confluence#1, an album of personal composition that features Shadi Fati, and also numerous French, Bulgarian, Greek, Moroccan, Algerian and Indian musicians as well. Edited by Buda Music and distributed by Socadisc, the album is supported by the Région Provence Alpes Côte d'Azur and is acclaimed with a Coup de Coeur by the Académie Charles Cros and with a Bravo!!! by Trad Magazine. Isabelle Courroy collaborates from a long time with the Askak quintet, the Panselinos group, Françoise Atlan, Djamchid Chemirani and also the Rassegna Company, its last creations Il sole non si muove and Contretemps avec l'historien Patrich Boucheron mean the amplification of the approach of a tensioning of aesthetics. Zad Moultaka invited her to a work of improvisation directed in the company of the Armenian kemenche player Gagik Mouradin. This residence resulted in 13 Haiku created at the Royaumont Foundation. At the outset of this creation, in 2015, Zad Moultaka composes for his intention Zaïb Rouwakou, a piece for kaval and fix sound that figure in LOXIAS, souffles de cristal, the last multidisciplinary creation of Isabelle Courroy on crystal instruments.